After the shinto ritual takes place within the shrine grounds at 1:00 p.m., a female shishi (Japanese lion) dance to drive away evil spirits, which is said that locals of Hakusan, Ishikawa, passed along during the Kansei era about 190 years ago, is dedicated to the enshrined god. The large lion's head (full length is about 60 cm) is carved solely out of hinoki cypress wood. After the dance, mochi rice cakes are thrown in another traditional ceremony to end the festival. Local rice wine called "Somazake" is served as sacred sake.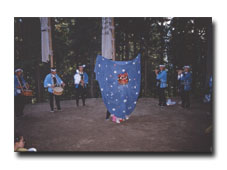 Higashiyama Shrine Festival
This festival is held every July on the weekend before Marine Day for a minor deity of the Midono district. Guardian parade around Midono while singing songs and carrying a portable shrine. Infants experiencing the festival for the first time are held by the guardians and walk under the portable shrine to pray for their healthy growth.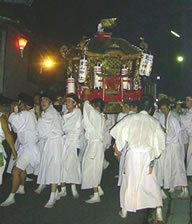 Higashiyama Shrine's Portable Shrine
Portable Shrine Song
San'yare san'yare

Sabano sabano Kusakari wa

Tori to momoure ichiya niya

San'yasukareya mukaiyama no usagi wa nani wo mite haranda

Nihon bayashi no tsuki wo mite haranda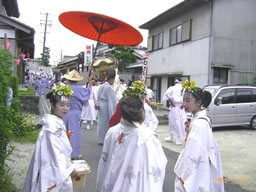 Primary school girls act as shrine maidens and follow behind the portable shrine.
Photo Credit: Wataru Honda
Festival for the local deity of Tsumago Post Town. Local people acting as shrine guardians parade a portable shrine around the post town while shouting "Genimosayona".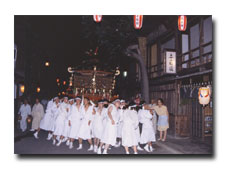 A portable shrine is paraded through the streets of Terashita.
Tsumago Post Town Fire Festival
An annual festival held on the 4th Saturday of august.

Originally held to celebrate "urabon" (Feast of Lanterns) at the summit of Mt. Atago where the deity Akiba-sama is enshrined, the festival was brought to Tsumago Post Town so that visitors could also enjoy the festivities.

Traditional Kiso dance and performing arts are held from 7:20 p.m. in front of the Tsumago Post Town Fureai-kan.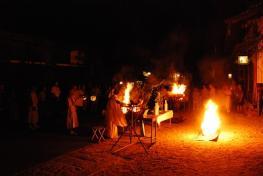 Yogawa Autumn Moon Viewing Party
Held at the time of the harvest moon at the site of the Koten-an Ruins. Moonrise occurs at a different time each year, between 6:00 and 6:50 p.m.
Enjoy the sight of the large and magnificent harvest moon complimented by the surrounding scenery. (One of the Eight Scenic Spots of Kiso)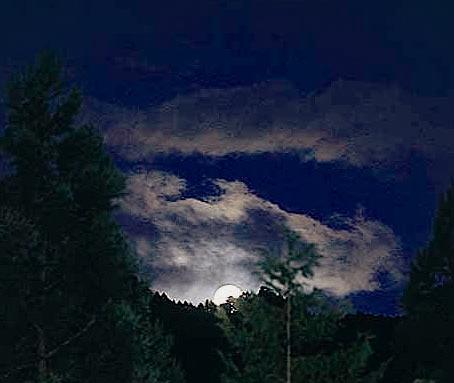 This vibrant festival is held to give thanks for a bountiful harvest. Three Kiso horses, with saddles adorned by colorful flowers (crafted from thin strips of bamboo and colored paper), depart from Tadachi Station at 12:30 p.m. They are led to the Itsumiya Shrine in a slow procession, accompanied by music from flutes and drums. After the procession has circled the shrine grounds three times, the waiting people jostle to grab on of the flowers from the horse's backs. The paper blossoms, shaped like ears of rice, are said to ward off evil spirits when placed at the entrance of a house, or to repel insects from growing rice when placed on the ridges between rice fields. In 1993, the festival was designated as an Intangible Cultural Property for Nagano Prefecture.
These decorated horses also participated in the closing ceremony of the Nagano Winter Olympics.
* There is are no parking areas in the vicinity, so please use public transport when attending this festival.
Hanauma Festival Event Schedule
Date
1st Sun of October
Schedule
Children's portable shrine
Flower Horses depart Tadachi Station 12:30 p.m.
Arrive at Itsumiya Shrine
- 3 circuits of the shrine rounds
- Children's portable shrine
- Rice-cake throwing
Festival ends 2:30 p.m.
Tadachi District Culture Festival
(Gymnasium of the former Tadachi Elementary School)
First Saturday in October (the day before the Hanauma Festival)
(Tadachi Kabuki is the opening performance)
A performance of Tadachi Kabuki is held on the eve of the Hanauma festival. This ancient style of Kabuki theatre premiered in 1729, during the Edo Period and has been passed down from generation to generation through ancient documents. Kabuki's popularity in Edo (Tokyo) was soon transmitted to the Kiso Valley as the favorite entertainment for the people of that time. This locally performed variant has been carefully protected to keep its ancient style distinct from the central school of Kabuki performance. In 1954, it was designated as an Intangible Cultural Asset of the town, and the younger generation of the preservation society are committed to refining the art.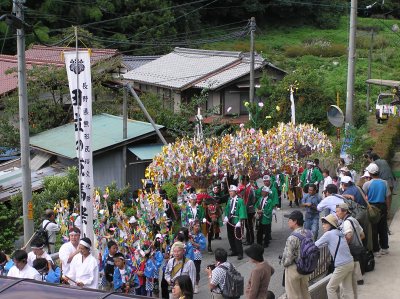 Arts and Crafts Trail Festival
In November, the various craft shops spread along Route 256 participate in demonstrations of their craftsmanship and discounted sales of works such as traditional woodwork and hinokigasa (cypress weaved hats). There are a lot of corresponding promotions, including discounted hot spring bathing, and free sake & oden. Won't you spend an autumn day experiencing Nagiso's traditional craftsmanship?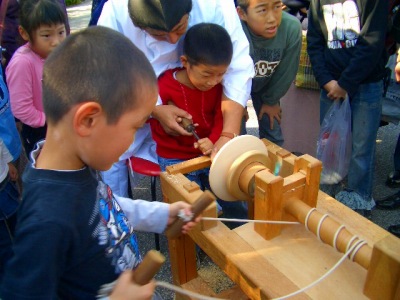 Contact us
Nagiso Town Tourism Association &
Nagiso Town Office Economic Tourism Division
Tel: 0264-57-2001
Hinokigasa no Ie /
Araragi Hinokigasa Manufacturers Cooperative
Tel: 0264-58-2727
Kiso Hinoki Mokuso
Tel: 0264-58-2039
Kijishi no Sato / Nagiso Lathed Woodicrafts Cooperative
Tel: 0264-58-2434
Tsumago Post Town Tourist Information Office
Tel: 0264-57-3123
Kisoji Resort
Tel: 0264-58-1126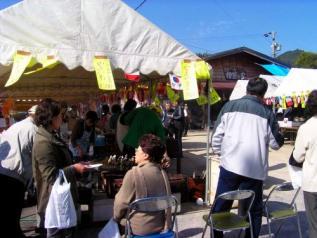 Bunka-Bunsei Customs Parade
This parade is held annually on Labor Thanksgiving Day (November 23) to celebrate the anniversary of the Tsumago Post Town Preservation Project that was established in 1968.
About 130 local residents dress in traditional costumes including samurai, ronin, bird scarers, pilgrims, couriers, mendicant monks, and reenact the customs of the Bunka and Bunsei eras. On the day of the event, the procession departs the Nagiso Sogo Ground, 2 km to the north of the town, at around 10:30 a.m., travelling along the ancient Nakasendo Road to reach the center of the post town at around noon. The procession sings a traditional song and surrounds a bride carried on a Kiso horse, a matchmaker, and children carried on traditional shoulder-born palanquins. It is a popular subject for photographers.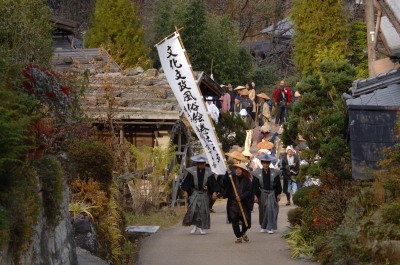 At lunchtime, the people sit in traditional wood-floored terraces that line the highway (known as "Dei" in the Tsumago district's dialect) to enjoy meals such as bento (box lunches) or rice wrapped in bamboo leaves, while some smoke traditional metal tipped pipes, recreating the atmosphere of the Edo era townscape. After lunch, the procession continues at a leisurely pace to its end, O-tsumago district, and then returns to the center of Tsumago Post Town. At this, the people enjoy traditional drum performances, taking commemorative photographs, and throwing harvest-celebration rice cakes in the grounds of the former Tsumago Elementary School.

After this day, the season for autumn leaves comes to and end and the post town regains its winter tranquility, becoming a destination only for people who truly love to travel.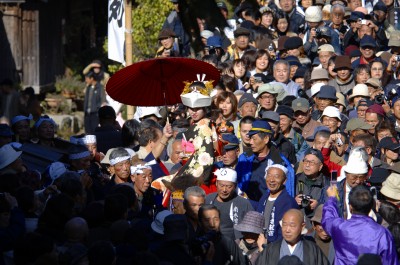 Organizations / Contact details
Tsumago Post Town Appreciation Society, Bunka-Bunsei Customs Parade Organizing Committee
Tel: 0264-57-3513
Contact details
Nagiso Town Office, Tourist Industry Division, Office of Commerce & Tourism
3668-1 Yomikaki, Nagiso, Kiso-gun, Nagano, 399-5301
TEL 0264-57-2001 FAX 57-2270
Time schedule of Bunka-Bunsei Customs Parade
* The numbers in parentheses () for each point correspond to the course map below.
10:00

The cast meet at Oshima District

(1)

Nagiso Town Sogo Ground

10:30

The parade departs (signaled by fireworks)

11:00

Break time

(2)

Tsumago Castle Ruins Trailhead

11:20

Merging with the bridal procession

(3)

Oya-mae

12:00

Parade arrives at the post town

(4)

Terashita District

~12:40

Lunch, Terashita District

12:50

The parade departs (signaled by fireworks)

Around 1:20 p.m.

Parade arrives & break time

(5)

O-tsumago District

→ Transport to the Town-run Parking Lot No. 3 by bus.

13:50

From the Parking Lot No. 3 through Terashita to

(6)

the Former Tsumago Elementary School Grounds

From around 2:15 p.m.

Drum Performance, Vegetable Offering Auction, Commemorative Photographs, Harvest-Celebration Rice Cakes at Former Tsumago Elementary School
Course of Bunka-Bunsei Customs Parade