Modernization Heritage (National Important Cultural Property)
About Modernization Heritage (National Important Cultural Property)
Modernization Heritage refers to the legacy of the social capital that played a key role in the modernization of Japan between the end of Edo Period and the beginning World War II. Most of these legacies face the risk of extinction, as they can be replaced by new and more efficient alternatives. Some of them are already protected as a cultural heritage, but an increasing number of them are disappearing in recent years.
Items considered to be modernization heritage include monuments built by modern methods and related to industry, transportation, and civil engineering. In relation to industry, for example, it includes shipyards, mines, steel mills, and paper mills. Regarding transportation, it includes railway and road bridges, and ships. For construction, it includes port facilities, canals, dams, and power plants. Facilities and tools related to these topics are also included.
Among them, heritage locations with a higher value are designated as "Modernization Heritage" according to the Cultural Properties Protection Law.
Restoration of this suspension footbridge was completed in September 1993 and it was designated as a National Important Cultural Property on December 27, 1996.
This is the first restoration case of a modernization heritage site in Japan.
The town utilizes this heritage while providing a good reservation.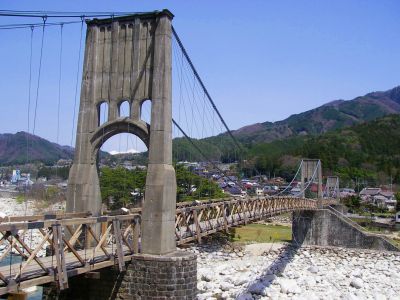 This hydroelectric power station was established in December 1923, after undergoing construction for over two years, and costing 17,970,000 yen at that time. Initial output was 40,700 kW, subsequently increased to 42,100 kW. It produced the largest quantity of power in Kiso County before World War II.


This concrete aqueduct is built across the Kakizore River, a waterway leading to the Yomikaki Power Station. A National Important Cultural Property.