Mt. Nagisodake is a part of the Central Alps and Mt. Kisokomagatake, overlooking Mt. Norikura and Mt. Ontake in north and Mt. Ena in the south. Also called Mt. Kinntoki, it was regarded as a place for religious practices in the mountains. With the elevation of 1,677 m, it offers a relatively easy climbing course with variety, ranging from mild to steep hills and those with chain rails. It is a very popular one-day mountain climbing experience destination.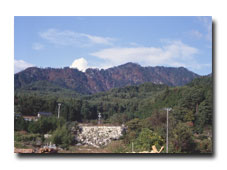 Sample course:
Nagiso Sta ⇒ (about 15 min by Ontake transportation bus) ⇒ Ogoshi Bus Stop ⇒ (walk on the paved forest roads for 30 min) ⇒ Campground (30 min) ⇒ Trailhead (10 min) ⇒ Descending trail junct. (proceed to left, 15 min) ⇒ Nodonotaki Falls Site ⇒ (Chain and ladder guided paths after Kinmeisui, 1 hr) ⇒ Kabuto-iwa (about 10 min) ⇒ Nagisodake peak * (about 5 min) ⇒ Onna-iwa ⇒ (down in the forest zone, about 1 hr 15 min) ⇒ Mountain ridges perpendicular curve point ⇒ (about 50 min) ⇒ Transmission Tower No.2 (about 20 min) ⇒ Uenohara trailhead ⇒ (toward Yomikaki Elementary School, 30 min) ⇒ Nagiso Sta.

* There is no viewing platform on the summit. But if you go a little further, you will arrive at a viewing platform with the Nagiso Takeyama Ogami (mountain god) stone monument. You can also view Ontake and Kiso Valley as well as Mt. Kisokomagatake from Uehara fork.

[Climbing Route Map]



▲View from the summit area




▲View toward the mountain peak




from the mountain trail below




▲View from the mountain trail below




▲View from the Marishiten viewing platform
Nagiso Foothill Campground
The campground is located by a clear river surrounded by the woods in the south foot of Mt. Nagisodake (elevation: 800 m - 900 m), one of the three major Kiso mountains. It is open April through November. Accommodation includes cabins, bungalows, and RV campground. You can enjoy various water activities and fishing in the river.
Nearby attraction includes the Araragi Birin (nature discovery park) where you can enjoy all of Kiso Five Trees (hinoki cypress, sawara cypress, hiba arborvitae, podocarpus, and thuja standishii) which are over 300 years old while exploring this thick forest.
It also serves as a mountain climbing base. You can hike to the peak of Mt. Nagiso from the campground (takes about 2 hours). From the top of Mt. Nagisodake, you can enjoy a panoramic view of the Southern Alps, the Central Alps, Mt. Ena, and Mt. Ontake, as well as the towns of Araragi and Nagiso below.